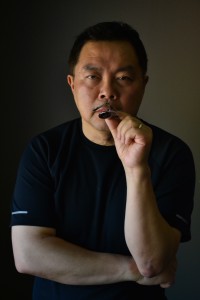 I wrote my first "novel" when I was in elementary school.  Sadly, I threw it away shortly after it was finished and the world will never know if it was a masterpiece… or a mess.  I think it was a science fiction piece but then again, it might have been a comedy.
Writing words took a back seat for a couple of decades as I concentrated on music.  In fact, my Master's thesis was a composition for symphonic band.
However, as I made more films, writing stories and articles became important.  I began getting published in newsletters, magazines, getting commissions to write screenplays and story treatments to the point where I am now devoting a greater part of my creative energies to writing.
In addition to fiction, I write magazine articles and non-fiction as well.  Much of it has to do with a Chinese or multicultural focus and the integration of diversity into the mainstream.
Stories with rich, engaging characters in difficult, awkward or crazy situations. You will fall in live with them… or hate them… but you will not be indifferent to them. They will pull you in, wonder what makes them tick and make you want to find out what the heck is happening next.
Contemporary worlds infused with drama and intrigue.
A past time of pain, hurt and triumph.
Drama that wrenches the heart.
Wes is currently writing a Trilogy that deals with the emergence of the Chinese in Canada that takes us from the early times of arrival as railway workers to today. Please subscribe to keep posted.
A COOLIE DREAMS
FACE OF THE ENEMY
GOODBYE CHINATOWN